Our Company History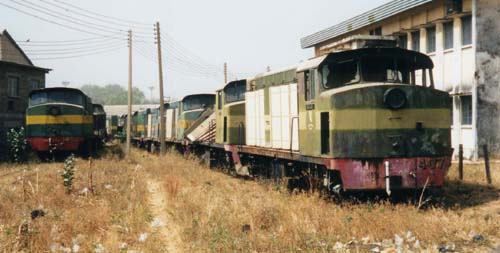 The introduction of private sector participation by granting concessions
for both freight and

passenger operations. 7. Key Milestones on the on the Privatisation
Timetable The following are

the key milestones on the privatisation plan of NRC Appointment of
Transaction Adviser July 2005

Concession Process Begins August 2005 Enactment of new Railway Act
September 2005 8. Future

Prospects The draft National Transport Policy awaiting the approval of the
Federal Executive

Council will provide the best possible environment for private sector
participation and promote

theuse of private sector initiative and investments. In the immediate to
short term, there is

significant growth potential for both passenger and freight land
transport. The rails, if well

managed, could capture lost grounds to road transport using NRC's highly
trained and experienced

workforce from which the concessionaire could draw. As envisaged in the
25-year railway vision

many new rail lines are being planned the most notable of these are the
Lagos –Abuja,

Abuja-Kaduna, Abuja-Minna, and the West-East link. The connectivity of
rail services to major

seaports and international airports, as well as major economic,
commercialand industrial towns

and cities in the country would facilitate distribution of imported and
export-oriented goods

thereby expanding the distribution network and culminating intoenhanced
revenue and stabilisation

of the Nigerian economy. Completion of the Ajaokuta - Warri standard gauge
line would facilitate

transportation of coal to the steel complex at Ajaokuta, and to transport
the finished products

both for domestic use and to export locations.

Location

NRC's corporate Headquarters is located in Lagos at the Yaba / Ebute-
Metta industrial layout,

Ebute- Metta, Lagos. It has a liaison office in Abuja and seven (7)
divisional headquarters in

Zaria, Bauchi, Enugu, Kafanchan, Ibadan, Lagos, and Port Harcourt. 3. Type
of BusinessNRC

provides the following services: Passenger Services. These include:
Express trains for long

distance travel e.g. Lagos-Kano Inter city trains for medium journey
travels e.g. Port Harcourt-

Enugu Mass Train Trains (MTT) for linking rural and urban areas e.g.
Minna- Kaduna-Minna

Commuters for intra-city movement Freight Services. These include: Covered
Wagons suitable for

loading dry goods such as cement and general merchandise. Open Wagons
suitable for loading dry

goods such as cars, billets, etc. Special Wagons, Tank Wagons- for liquid
goods, and Baggage Vans

suitable for parcels, household items and other courier services SBX/CBX
for animals/general

goods and farm products Workshop Services. These include: Maintenance of
locos and rolling Stock;

Foundry services -bricks making & carpentry; and Other commercial
services. Ancillary services.

These include

Medical services;



Advertising Facilities; Printing Press; Catering; and Real estate 4.
Facilities The length of

the Nigerian Railway network is 3,793 km and consists of narrow gauge
(3,505 km of 1067 mm gauge)

and standard gauge (293km of 1435 mm gauge). The basic characteristics of
the track are

single-track lines, light and medium weight rail, steel and wooden
sleepers. The railway carries

both freight and passenger traffic and operates short and light trains.
Three major Workshops in

Lagos, Enugu, Zaria and; 280 railway stations (180 operational and 100
non-operational) 5.

Employees The current staff strength at NRC is about 14,000. 6.
Privatisation Plan The National

Council on Privatisation is implementing a medium term programme for the
reform and privatisation

of NRC that comprises the following steps: The formulation and
implementation of a new Transport

Policy for Nigeria;The enactment of a new Railway Act creating a new legal
and regulatory

framework that will take into account both economic and safety regulation;
The restructuring and

corporatisation of the NRC; Divestiture of non-core NRC assets; The
establishment of an

independent multi-sector regulator for the Transport sector



MORE
2 main lines (South-West to North-East; South-East to North-West) inter-linked and terminatory at Lagos, Port Harcourt, Kaura Namoda, Maiduguri and Nguru. Major junctions at Kaduna, Kafanchan, Zaria. Gauge: 1067mm; Total length 3505 route km.
RESOURCES: AGRICULTURAL, MINERAL AND MARINE
Nigeria, in addition to its huge population is endowed with significant agricultural, mineral, marine and forest resources. Its multiple vegetation zones, plentiful rain, surface water and underground water resources and moderate climatic extremes, allow for production of diverse food and cash crops. Over 60 per cent of the population is involved in the production of the food crops such as cassava, maize, rice, yams, various beans and legumes, soya, sorghum, ginger, onions, tomatoes, melons and vegetable. The main cash crops are cocoa, cotton, groundnuts, oil palm and rubber. Extractions from these for export and local industrial use include cocoa flour and butter, rubber crumb, vegetable oil, cotton fibre and yarn. The rain forests have been well exploited for timber and wood products of exotic and popular species.
Oil and Gas, by value, are the most important minerals. They are exploited and produced in the Niger Delta basin and off-shore on the continental shelf and in the deep-sea of the territorial waters. Nevertheless, there are significant non-oil mineral deposits on land many of which have been identified and evaluated: coal, iron ore, gypsum, kaolin, phosphates, lime -stone, marble, columbine, baryte and gold.